Jenny Brav MSW & CMP
Jenny is known for her perceptiveness, calming touch, compassion, integrity, and deep knowledge of the physical, psycho-emotional and spiritual realms.  She uses her spot-on intuition to hone in on and clear trauma and limiting beliefs, creating a safe and nurturing space where profound transformation can happen.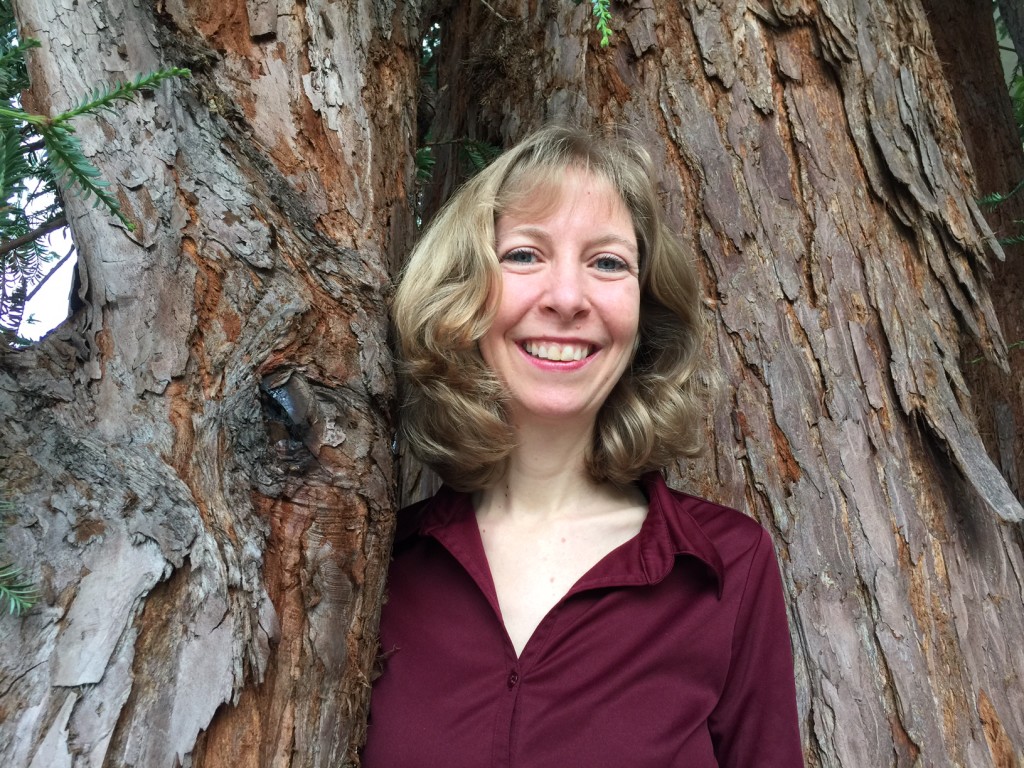 Radiant Wholeness Healing stems from Jenny's own journey to overcome early experiences of grief, inter-generational wounds and burnout.
Before coming to the Bay Area in 2010 to further her study and practice of alternative healing modalities, Jenny spent fifteen years working on social justice issues in the U.S. and on humanitarian issues in impoverished and conflict-ridden areas of Asia and the Middle East. While the work was incredibly rewarding in many ways, stress levels were high, and she developed chronic asthmatic bronchitis.  She started meditating and studying alternative healing modalities and nutrition so she could heal her body, and reach a state of balance. She brings the lessons she learned during her own journey to her healing work with clients.
Jenny grew up in a multicultural and bilingual environment in France; she has lived in numerous countries and studied a variety of languages. As a cultural chameleon, one of her gifts is her ability to bridge different worlds. She acts as a conduit between the seen and the unseen, the emotional and the physical, the subtle realms and the intellect. Just as she used to accompany human rights activists in dangerous areas to make it safer for them to do their life work, she now accompanies her clients into their deepest wounds and to the other side, so they can live their life to their fullest potential.
 In her spare time, Jenny can be found: hiking among the redwoods and staring up at the sky from the middle of a grove of elders. Chasing rainbows (her record sighting was nine in one day!) and discovering new waterfalls. Doing service work at a senior center and volunteering in different non-profits. Traveling to distant lands. Creating new ways to make vegan and gluten-free food taste delicious (yes, it's possible!). Growing and learning ever more in personal growth workshops (no, it never ends). Meditating and contorting her body in unnatural ways in yoga. Writing poems, teasing out ideas for new blog posts, and doing research for her novel (which she may actually finish some day).
Credentials
Jenny Brav has been practicing healing work since 2008. She is a Certified Massage Practitioner in the state of California (Cert. # 27453). Her credentials include:
Comprehensive two-year training in the Hakomi Method of Mindfulness-Centered Somatic Psychotherapy, Hakomi Institute of California, 2014-15
250 hours Acupressure, Acupressure Institute in Berkeley (now part of McKinnon School of Massage), 2010-11. Included classes in reflexology and chakra balancing
Certified EFT practitioner with the Sophia School of Living Arts, 2010
Matrix Reimprinting Certified Practitioner, Tapping the Matrix Academy, 2016
Levels 1-3 of craniosacral training, Milne Institute, 2011-2013
Shamanic workshops with Michael Harner's Foundation for Shamanic Studies and nine-month Shamanic apprenticeship with Sylvia Nachlinger, 2010-11
Steps 1-3, and advanced classes, Psychic Horizons, 2010-11
Non-violent communication training, East Bay NVC, 2010
MSW (Master in Social Work), Washington University Brown School of Social Work, 2002, Recipient of Dean's Scholarship
Fulbright Scholar, Nepal, 1998-2000
Bachelor in Psychology, Macalester College, 1996, Suma Cum Laude, Phi Beta Kappa
Prior work experience includes:
Head of regional sub-office, United Nations Office for the Coordination of Humanitarian Affairs, Western Nepal
Civil Affairs Officer, United Nations Mission in Nepal
In-Country Coordinator, Peace Brigades International, Nepal Project
Full-time volunteer, Peace Brigades International, Indonesia
Immigration Coordinator, United Methodist Church's Social Policy Board, Washington, D.C.
Jenny speaks French, Nepali and Italian fluently, and has studied Spanish, Indonesian, Arabic, German and Hindi. And she is also proficient in the language of the body and mind :-).
Selected Testimonials
"Jenny has been an incredible person to work with.  I came to her feeling a lack of contentment in my life, was frustrated from not being able to negotiate for what I want, and had a deep fear of rejection.  I had never tried anything like EFT before, and to be honest, I was more than a bit skeptical. Jenny has made a believer out of me. She has been a kind and wise guide on my journey to truly discover who I am.  The transformation in me has been miraculous, and has had a profound impact on all of my relations (spouse, co-workers, friends and sangha members)." – Scott T
 "I first sought Jenny out to assist me at a time when I was going through some major life transitions. I had so much to do, including selling my home, downsizing, starting my own business and grieving the loss of my partner. I tend to 'shut down' when I feel emotionally overwhelmed. Jenny helped me to get things in perspective, clarify emotional issues that were arising, let go of emotional baggage and fortify the energy and motivation I needed to move forward. Jenny is an intuitive with a big heart. I trust her with my deepest feelings and issues–she offers a safe space for me to explore what is going on at a much deeper level. She also helped me to look at old patterns that I was holding onto, childhood issues that I had forgotten about and ancestral patterns." – Tim C
"Jenny Brav is a healer. The moment we began our work together I felt comfortable, supported, recognized and overall taken care of in our session. Her ability to read energy and listen to what I and my body had to say is incredible. I left our sessions feeling stronger, and more importantly, way more in tune with what I was feeling and why I was physically experiencing certain symptoms. I highly recommend her sessions and techniques and would say that she genuinely gave me tools that I can use for the rest of my life.

In addition, as a young woman of color, it is not always easy to find practitioners who are sensitive to my needs and experiences. Jenny made me feel respected and acknowledged in terms of how I identify, my personal experiences as a woman of color and adapted to the language and unique ways that I express myself. If you are seeking a healer and a guide, Jenny is your person." – Camila L
 "I began to work one-on-one with Jenny after joining her EFT circle in the summer of 2015. I was drawn to her light-hearted yet earnest style of approaching deeply personal topics in the group setting, and felt a sense of safety and security in her presence. I pursued sessions to seek support in exploring and addressing life-long patterns of reactivity, defensiveness and insecurity in myself and in my relationships.

I have found Jenny's guidance to be profoundly healing and supportive on this journey. Through our sessions together, I have learned to befriend difficult emotions and memories, honoring their message and welcoming the opportunity to learn from and with them. I have developed strategies to support me in difficult moments of anxiety, anger, and tension, and am now able to access them readily when I need to. Jenny has helped me to … find ways to heal the broken parts of myself that have been left behind along the way. Through this process, I have begun to discover a sense of integration, wholeness, and deep, loving acceptance that I have been longing for all my life. Jenny is a wise and deeply intuitive partner in the healing journey, and I wish everyone I know and love could enjoy the gift of her guidance."  – Chrissy A
"I worked with Jenny during a period of intense transition in my life… romantic stuff, housing stuff, career stuff all up in the air. I would come to the sessions wired on adrenaline and anxiety, feeling ungrounded, overstimulated, and not even sure if I could continue to live in the Bay Area. Walking away from each session with Jenny, I felt 'in my body,' calm, trusting and like I could walk back out onto the streets of Berkeley without feeling completely overstimulated.  I love how Jenny's work addresses the pain on multiple levels at once – with hands-on touch addressing muscular pain and somatic holding patterns, and psycho-spiritual work addressing the parts inside of me that needed to make peace with one another so I could be present. As an intuitive myself, I particularly enjoyed how Jenny could easily access the spiritual realms I would travel in during our sessions, and even deliver messages from my spirit guides that I was too stressed out to hear on my own." – Regina G.
"I began working with Jenny because I was undergoing a swift and severe identity crisis. Years of pretending to be the gender I was assigned at birth has finally caused me to hit the wall of existential dis-ease, and caused an immense amount of fear, anxiety, and grief to well up in my body. This was all complicated by my feelings and beliefs around gender itself, which prevented me from finding a suitable resolution. Those feelings and beliefs were largely the product of ancestral wounds, and past life experiences (which had been reinforced in this lifetime since my childhood). Jenny's facilitation helped me to face and clear the many (many!) blockages that were in the way of my having a clear understanding of my authentic gender. Since working with her, I have actually, finally reached a state of integration around my gender identity, and have subsequently worked through many of the hardships associated with living that out in the world.

Since then I have successfully cleared many other issues with Jenny: urgency, issues with receiving, resolving issues with my moon cycle, and healing interpersonal dynamics. Jenny's loving presence, wealth of shamanic and counselling skills, and incredible witnessing and listening capacity make her a real powerhouse healer. I would recommend her to anyone who is ready to transform their lives into the miracle they always hoped was possible. Thank you, Jenny!" – Dion W.
"I have been seeing Jenny … for nearly a year.  During what has been a very tumultuous time in my life that has included my mother dying, losing a job, and going through a painful, difficult breakup, Jenny has been a beacon of light, hope, comfort and healing.  What I especially like about Jenny is her ability to meet me exactly where I am, with what I am presenting, and navigate in a way that is most healing and beneficial, effecting real transformation.  Among other things, what makes her special is her ability to integrate subtle energetic realms and concrete, grounded reality. Jenny is uniquely able to meet me on the levels of intellect as well as on more ethereal layers.  She is a rare find and anyone who goes to see her should count themselves lucky.  I know I do." – Nancy L.
"I'm a survivor of childhood sexual abuse and incest.  I heard great things about EFT, but I was very skeptical. I tried EFT with Jenny, and I have to say that it was the single most powerful healing session of my life. Honest!  The tapping was probably part of it, but much more than that were the words that Jenny used with me during the tapping thing. It felt to me like she (or we) were reprogramming my brain and nervous system. It's hard for me to fathom how Jenny was able to so quickly get a read on my situation and then to come up with the language for a way through. All in one session!  I'm wary of people who project miraculous capacities onto healers, but Jenny is indeed really, really gifted and smart and humble–at the same time. I feel blessed to be working with her." – Tom C.
"Jenny is one of the most talented therapists I've ever come across. I tried EFT for the first time several weeks ago and as a fairly logical person, I was somewhat skeptical about the practice. So I was really surprised when a lot of emotional material came up during the first session and by how much better and freer I felt afterwards. I've been working with Jenny ever since to heal some of the things I've been holding on to from the past and to install the beliefs that are most beneficial for me. Since starting EFT with Jenny, I've come a long way in my personal growth and healing. Thank you Jenny!" – Minda M.
"I came to Jenny in a place of high emotional tension for an EFT session last September. That provided so much clarity, and so much movement in my energy and heart, that I signed up for her three-session package. That was a wise decision!  I feel like going through that deep healing voyage with such a caring, abundantly trustworthy and competent healer really rooted me in the reality of my worth, and the truth of what I long to create in the world. You get much more than EFT here. Jenny's experience as a shamanic practitioner dances right along on the journey, holding the container for incredibly deep work. THANK YOU, Jenny." – Kasia K.
"Jenny is awesome. I first met her through her EFT meetup group… If you haven't experienced EFT, Jenny is the ideal practitioner to work with to transform whatever blocks–physical or emotional–need healing/release. I saw Jenny for a private EFT session, and it was an incredible release of much blocked energy/emotions. I felt immediate relief and hope and found that the positive effects increased as the week went on. Jenny has a spot-on intuition. She touched on so many emotions that made me think, YES! Most importantly, she was able to get me past the wallowing in negativity and turn things around to a positive perspective. I believe you get a bit more from her than a typical EFT practitioner, because she incorporates shamanic practices where appropriate. This was powerful for me. She is gentle, professional and compassionate–someone you can tell sincerely cares and wants to help." – Nancy C.
"Jenny has the most wonderful hands. They are so gentle and yet so strong. She has been a big help to me in dealing with my pain. Her holistic approach combines acupressure, EFT, reflexology, her background as a social worker and psychology. No matter which technique she employs, it feels like the right one for the problem. She makes connections that zero in with an amazing instinct to solve your problem whether it be emotional, physical or psychological. I have known Jenny for many years and salute her choice of occupations. It seems to be the perfect fit!" – Katherine J.
"Jenny is a gifted healer with excellent therapeutic skills, both in EFT and acupressure. The sessions are focused and have really made a difference to me, as I have experienced great relief from the effects of chronic pain and other stress. Jenny is warm, compassionate and intelligent — and affordable. A rare combination!! Highly recommend!" Jennifer B.
"Jenny Brav has a direct connection to the source. She removed blocks and cleared old tapes that had been obstacles for a very long time. She is a wonderful practitioner. She helped me through major life changing experiences, and I will forever be grateful. Thanks Jenny." – Debrah J.
"I was amazed by how effectively Jenny's combination of acupressure and guided meditation directed my thoughts to where they needed to be.  By the end, I felt like I had undergone some sort of Meyers Briggs type balancing surgery and had a far better sense of the value of ways of relating to the world that I wasn't accustomed to.  To a significant extent, I found myself questioning parts of my life narrative that I hadn't even seen as on the table." – Michael V.
"The moment I entered Jenny's healing space I felt relaxed and safe to deal with whatever showed up!  I was surprised by the depth of experience but, at the same time, felt supported so I let myself go even deeper, knowing that I was in good hands! My own intuition was right, because Jenny led me towards the light with a sweet and comforting resolution towards the end. At the end of the session I felt as if I traveled through time and dimensions, having experienced myself in a different space, and recovering part of my soul that was hurt as a child… powerful!" – Merav D.
"Jenny Brav is AMAZING. No words can describe how wonderful she is. I came in last minute with a tweaked neck (getting old sucks). Not only was she able to help me gain motion again, but she also helped me identify emotional–both my own and ancestral–tensions that were surrounding me. There are not enough words to describe how much she helped. I know I will be returning. Thank you so much for both the physical and emotional assistance!" Ciraya S.
"EFT with Jenny Brav has been a new and positive experience for me. I have struggled so much over the past several years and have done conventional psychiatry, therapy, self-help groups, meetings and so on. With Jenny and EFT, I felt as though for the first time there was hope even for me, and my state of mind and conditions could be healed.  Jenny is a wonderful practitioner: she is kind, caring and receptive. Working with Jenny, I had several intense breakthroughs. It amazed me how quickly and to the point EFT works. I could have never reached these levels with a conventional therapist. Words cannot truly express and put forth the ability Jenny has as a therapist. If you have gone through struggles, trauma or some other hell, I am positive that Jenny could help and find a way to work with you to ease your journey. Thank you so much, Jenny, for your kindness, your humanness and love that you bring to the planet." – Michael S.
"I did a one-on-one session with Jenny, planning to work on issues I have with productivity when working at home – what I thought was a fairly simple, uncomplicated issue. Through her incredibly intuitive guidance, we were able to uncover underlying issues from my childhood I've been holding onto my whole life that I did not even realize existed before our session! I was dumbfounded by this discovery and the realization that this childhood trauma has been affecting so many aspects of my life for decades. What an insight! Identifying and clearing this block has helped me take a huge step forward on my path of personal growth. Thank you, Jenny!!" – John W.
For more testimonials, find me on Yelp